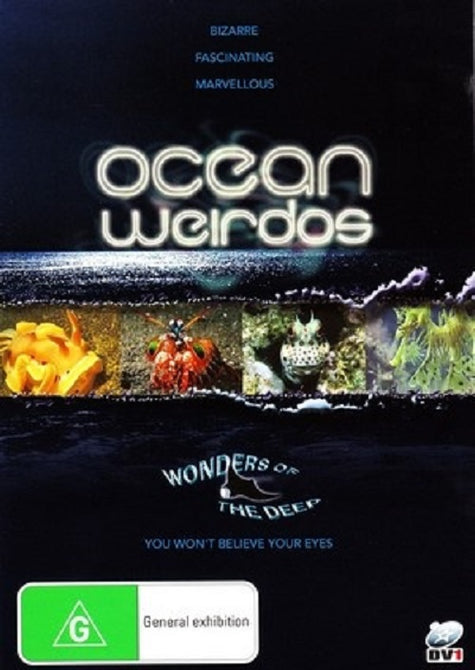 Wonders of the Sea Ocean Weirdos New Region 4 DVD Ocean Documentary
Buy With Confidence
Free Shipping (Australia Only)
Australia Wide
Peace of Mind
60 Day Return
Wonders of the Sea Ocean Weirdos New Region 4 DVD
This Region 4 (Australia and New Zealand) DVD is in Stock in our Melbourne Warehouse
Please note image may vary
A visual feast depicting the planet's strangest sea creatures and their even stranger habits. From the deepest oceans to the shallow tropical seas, this film displays the bizarre creatures that inhabit our inner space. They range from the ugly and pugnacious to the alien-like and totally brainless. Shark Bay Films secured unprecedented and exclusive access to the very latest images and discoveries from the deepest oceans made by the Southampton Oceanography Department in the UK and the film includes interviews with key scientists at the cutting edge of the exploration of this still virtually unknown world. Among the creatures featured are one of the world's longest animals, a strange snake-like jellyfish which can grow to well over 40 metres and has deadly stinging cells all along its body. In depths of around 300-400 metres off the coast of Scotland, we see the first-ever pictures of predatory monkfish trying to eat a large cod, eventually learning that it must eat the fish head first to succeed. In the tropical waters of the Far East, there is an abundance of weirdos, such as the ugly Inimcus, better known as the Devil Fish. At the other end of the spectrum, there is the more gentle and endearing image of the seahorse, whose strangeness comes form the fact that it is the males that give birth to live young. Close up pictures of the birth make a fascinating addition to the programme's collection of weirdos. The product of many years scouring our blue planet, Ocean Weirdos reveals images never before seen on film.
Zone/Region: 4
Australia Wide:
We offer FREE Shipping, Australia wide on any order. No minimum purchase value! Free shipping is via Australia post.
Express and registered post are also available at an additional fee.
Shipping Time
Orders are generally dispatched with 48 hours of your payment being processed (Excluding weekends and public holidays). Delivery time will vary depending on your location within Australia and should be no more than 3 - 9 working days. Please note postal services do not operate on Public Holidays and weekends.
We offer a 60 day returns policy on all items. We will exchange any item or give you a full refund if:
» Your item is defective i.e. a manufacturing fault
» You have been sent the wrong item.
Return postage costs will be refunded in full upon receipt. Please contact us prior to returning an item.
Change of mind within 60 days is accepted as long as the item is unopened and returned in original condition. (Return Post to be paid by buyer)
Satisfaction Guarantee
We want to make sure that your online shopping experience with Kish Kash Entertainment is a pleasant one. If you are not completely satisfied with your order or any part of your dealings with Kish Kash Entertainment please contact us so that we can rectify any problems.
Contact us: webstore@kishkash.com.au
or via the telephone 9am-3pm Mon-Fri :
Australian Customers Telephone: (03) 9349-1118
International Customers Telephone: +61-3-9349-1118