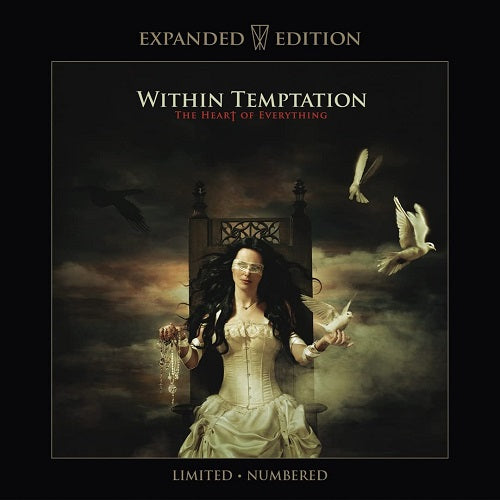 Within Temptation The Heart Of Everything 15th Anniversary Edition 2 Disc New CD
Buy With Confidence
Free Shipping (Australia Only)
Australia Wide
Peace of Mind
60 Day Return
Within Temptation The Heart Of Everything 15th Anniversary Edition 2 Disc New CD
***** This is a preorder for a new release CD that is not yet released. The release date for this item is 26-08-22. This item will be shipped from our Melbourne Warehouse within 5 days of the release date *****
Please note image may vary
WT proves on this fourth (2007) album to have the ability to write great melody lines and counter-melodies, and the structure of the songs hold together very well individually as well as throughout the album to create a unified whole. Their development as musicians and songwriters improving with each album. Sharon den Adel has a powerful, top-notch voice that rivals even that of Tarja Turunen of Nightwish, and the rest of the band puts a guitar-laden mix of symphonic metal that is unmatched by any band anywhere. The album starts off with the heavy opener, "The Howling." Followed by the duet "What Have You Done" featuring Keith Caputo from Life Of Agony, a big hit all over Europe. This 2022 WT Edition contain 4 bonus tracks + a bonus (9 in Japan) 12 tracks LIVE CD.
- Disc 1 - 1 The Howling 2 What Have You Done (Feat. Duet with Keith Caputo) 3 Frozen 4 Our Solemn Hour 5 The Heart of Everything 6 Hand of Sorrow 7 The Cross 8 Final Destination 9 All I Need 10 The Truth Beneath the Rose 11 Forgiven 12 What Have You Done (Feat. Keith Caputo) (Rock Mix) 13 Blue Eyes 14 Sounds of Freedom 15 The Last Time (Demo Version) - Disc 2 - 1 Our Solemn Hour 2 The Howling 3 Frozen 4 Stand My Ground 5 The Cross 6 The Heart of Everything 7 Mother Earth 8 Deceiver of Fools 9 Ice Queen 10 Memories 11 Angels 12 Hand of Sorrow
Australia Wide:
We offer FREE Shipping, Australia wide on any order. No minimum purchase value! Free shipping is via Australia post.
Express and registered post are also available at an additional fee.
Shipping Time
Orders are generally dispatched with 48 hours of your payment being processed (Excluding weekends and public holidays). Delivery time will vary depending on your location within Australia and should be no more than 3 - 9 working days. Please note postal services do not operate on Public Holidays and weekends.
We offer a 60 day returns policy on all items. We will exchange any item or give you a full refund if:
» Your item is defective i.e. a manufacturing fault
» You have been sent the wrong item.
Return postage costs will be refunded in full upon receipt. Please contact us prior to returning an item.
Change of mind within 60 days is accepted as long as the item is unopened and returned in original condition. (Return Post to be paid by buyer)
Satisfaction Guarantee
We want to make sure that your online shopping experience with Kish Kash Entertainment is a pleasant one. If you are not completely satisfied with your order or any part of your dealings with Kish Kash Entertainment please contact us so that we can rectify any problems.
Contact us: webstore@kishkash.com.au
or via the telephone 9am-3pm Mon-Fri :
Australian Customers Telephone: (03) 9349-1118
International Customers Telephone: +61-3-9349-1118