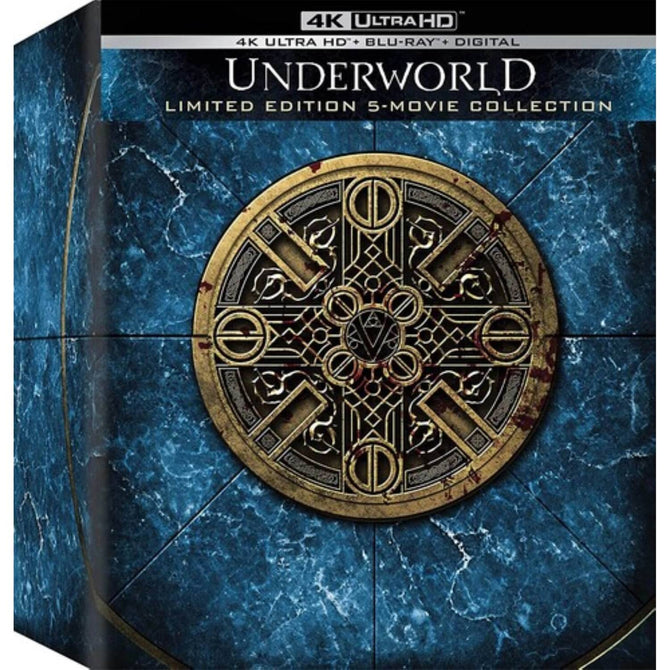 Underworld Limited Edition 5 Movie Collection New 4K Mastering Blu-ray Box Set
Buy With Confidence
Free Shipping (Australia Only)
Australia Wide
Peace of Mind
60 Day Return
Underworld Limited Edition 5 Movie Collection New 4K Mastering Blu-ray Box Set
***** This 4K Blu-ray is In Stock in our Melbourne Warehouse *****
This is NOT a normal DVD and will NOT play in a standard DVD player. This is a Blu-Ray Disc. The disc is playable only in Blu-Ray Disc compatible players.
Please note this is a Region A Blu-ray
Region A: Region A titles are suitable for USA and Canada. To play this Blu-ray in Australia you must have a Blu-ray player that can play all Region A,B and C Blu-rays
Please note image may vary
Underworld (2003) Super-stylish gothic horror/adventure stars Kate Beckinsale as Selene, a vampire huntress out to destroy the Lycans, the werewolf race the vampires have been warring with for centuries. Selene falls in love with Michael (Scott Speedman), a human caught between both sides in the conflict, but when he's infected by lupine disease and becomes a werewolf, Selene calls on Viktor (Bill Nighy), an elder bloodsucker leader, to intercede. With Shane Brolly, Michael Sheen. R-Rated theatrical version; 121 min./Extended version; 133 min. C
Underworld: Evolution (2006) As the war between the Death Dealers and the Lycans rages on, the vampiric Selene (Kate Beckinsale) and her werewolf hybrid lover, Michael (Scott Speedman), set out to uncover the origins of the centuries-long conflict, putting them up against an ancient bloodsucker obsessed with resurrecting his brother, the original Lycan. With Tony Curran, Derek Jacobi and Bill Nighy. 106 min. C/Rtg: R
Underworld: Rise Of The Lycans (2009) This prequel to the "Underworld" series goes back a millennium and traces the origin of the feud between the vampiric Death Dealers and the band of werewolves known as the Lycans. Vampire leader Viktor (Bill Nighy) finds an abandoned baby and enslaves him after discovering his Lycan bloodline, but when the slave grows to be the powerful Lucian (Michael Sheen) and falls for Viktor's daughter (Rhona Mitra), it unleashes a war of bloody proportions. 92 min. C/Rtg: R
Underworld: Awakening (2012) Death Dealer Selene (Kate Beckinsale) is back-again dressed in skintight black-for this fourth installment of the popular horror/action series, as humanity goes to war against both the vampire and werewolf clans. Escaping from the corporation that has held her captive in cryogenic freeze for experimentation, the vampiric heroine proceeds to do sexy battle with her adversaries, with an assist coming from a cop (Michael Ealy) on her side. Stephen Rea, India Eisley, and Charles Dance co-star. 89 min. C/Rtg: R
Underworld: Blood Wars (2017) The exciting fifth chapter in the enduring horror franchise finds Death Dealer Selene (Kate Beckinsale) pursued by her fellow vampires as well as their werewolf enemies. Drawn back into the ancient war between the two species, Selene must face the treacherous, power-hungry female vamp Semira (Lara Pulver) and the fierce Lycan leader Marius (Tobias Menzies). Theo James, Bradley James, and Charles Dance also star. 91 min. C/Rtg: R
Zone Region: A
Region A: Region A titles are suitable for USA and Canada. To play this Blu-ray in Australia you must have a Blu-ray player that can play all Region A,B and C Blu-rays
Australia Wide:
We offer FREE Shipping, Australia wide on any order. No minimum purchase value! Free shipping is via Australia post.
Express and registered post are also available at an additional fee.
Shipping Time
Orders are generally dispatched with 48 hours of your payment being processed (Excluding weekends and public holidays). Delivery time will vary depending on your location within Australia and should be no more than 3 - 9 working days. Please note postal services do not operate on Public Holidays and weekends.
We offer a 60 day returns policy on all items. We will exchange any item or give you a full refund if:
» Your item is defective i.e. a manufacturing fault
» You have been sent the wrong item.
Return postage costs will be refunded in full upon receipt. Please contact us prior to returning an item.
Change of mind within 60 days is accepted as long as the item is unopened and returned in original condition. (Return Post to be paid by buyer)
Satisfaction Guarantee
We want to make sure that your online shopping experience with Kish Kash Entertainment is a pleasant one. If you are not completely satisfied with your order or any part of your dealings with Kish Kash Entertainment please contact us so that we can rectify any problems.
Contact us: webstore@kishkash.com.au
or via the telephone 9am-3pm Mon-Fri :
Australian Customers Telephone: (03) 9349-1118
International Customers Telephone: +61-3-9349-1118