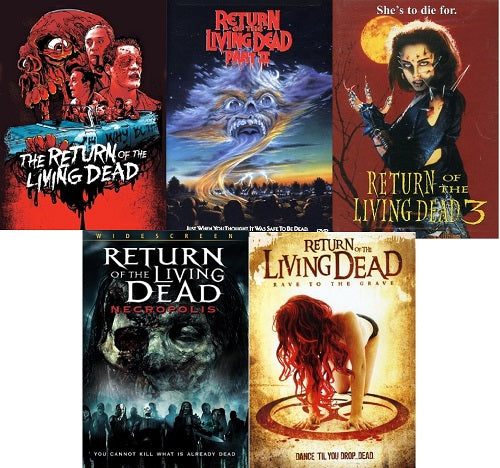 The Return of the Living Dead 1 2 3 4 5 (Clu Gulager) New Region 1 DVD
Buy With Confidence
Free Shipping (Australia Only)
Australia Wide
Peace of Mind
60 Day Return
The Return of the Living Dead 1 2 3 4 5 (Clu Gulager) New Region 1 DVD
This Region 1 DVD is In Stock in our Melbourne Warehouse
This is a Region 1 (US) DVD and will only play in Australia and New Zealand if you have a MULTI-REGION DVD player or a Region 1 DVD player. It will NOT play on a Region 4 only (Australia and New Zealand) DVD player.
Please note: Cover image may vary
The Return of the Living Dead Do you wanna party? The freshly risen undead certainly do in this horror-comedy that finds two employees of a medical supply company unwittingly releasing several zombies from cylinders in which they have been trapped for many years. The nasty brain-eating creatures are as hungry as ever, and eager to make up for lost time. Soon, the local citizenry is forced to deal with a large-scale zombie epidemic. The writer of ALIEN helmed this punk/horror pastiche. Director Dan O'Bannon Star Clu Gulager, James Karen, Don Calfa, Jewel Shepard, Thom Mathews, John Philbin, Miguel A. Nunez, Brian Peck, Linnea Quigley Special Features: Widescreen Audio: Mono - Spanish Dolby Digital Stereo - English, French Subtitles - English, Spanish, Zombie - Optional Subtitles - English - Closed Captioned Additional Release Material: Audio Commentaries - Including Cast, Crew, Zombies Documentaries - "From the Underground: The Rise of Horror in the 80s" Featurettes - "Remembering the Dead: Cast Recollections" Runtime: 114 minutes Year of Release: 1985.
Return of the Living Dead, Part II When a can of infamous gas falls off an army truck, a group of curious kids open it. The gas floats into a nearby cemetery and brings forth zombies to wreak havoc on the locals. Special Features: 1.85:1, Anamorphic16x9, Widescreen format. Runtime: 89 minutes.
Return of the Living Dead 3 Peter Coyote, Aimee-Lynn Chadwick. You just can't keep a good zombie down, literally! So it's not surprising that once again a force of evil, slow-moving, flesh-eating zombies is on the loose again to terrorize an even slower-moving band of teenagers. 2005/color/88 min/R.
Return of the Living Dead 4-Necropiolis In this incarnation of George A. Romero's zombie-saga, a group of high-school kids encounters a loathsome horde of the living dead and discover that a sinister corporation has invented a chemical capable of creating zombies. Star Peter Coyote Special Features: Anamorphic Widescreen - 16:9 format. Dolby Digital Stereo 2.0 - English Dolby Digital 5.1 - English Subtitles - English, Spanish - optional Additional Release Material: Trailers Runtime: 88 minutes Year of Release: 2005
Return of the Living Dead 5: Rave to the Grave A college student finds a canister in his uncle's attic that contains a drug more potent than Ecstasy. When word of the drug, nicknamed 'Z' for it's Zombie-like hallucinogenic effects, reaches unscrupulous college drug dealer Skeet, he hatches a plan to sell the drug to ravers attending the ultimate rave party. But when the drug's side effects start to kick in, the ultimate rave turns into the ultimate grave as partygoers drop to their death, then rise again to feed! Director Ellory Elkayem Star Peter Coyote, Cory Hardrict, Aimee-Lynn Chadwick Special Features: Full Frame Format.
Zone Region : 1
Region 1: Region 1 titles are suitable for US and will only play in Australia and New Zealand if you have a MULTI-REGION DVD player or a Region 1 DVD player.
Australia Wide:
We offer FREE Shipping, Australia wide on any order. No minimum purchase value! Free shipping is via Australia post.
Express and registered post are also available at an additional fee.
Shipping Time
Orders are generally dispatched with 48 hours of your payment being processed (Excluding weekends and public holidays). Delivery time will vary depending on your location within Australia and should be no more than 3 - 9 working days. Please note postal services do not operate on Public Holidays and weekends.
We offer a 60 day returns policy on all items. We will exchange any item or give you a full refund if:
» Your item is defective i.e. a manufacturing fault
» You have been sent the wrong item.
Return postage costs will be refunded in full upon receipt. Please contact us prior to returning an item.
Change of mind within 60 days is accepted as long as the item is unopened and returned in original condition. (Return Post to be paid by buyer)
Satisfaction Guarantee
We want to make sure that your online shopping experience with Kish Kash Entertainment is a pleasant one. If you are not completely satisfied with your order or any part of your dealings with Kish Kash Entertainment please contact us so that we can rectify any problems.
Contact us: webstore@kishkash.com.au
or via the telephone 9am-3pm Mon-Fri :
Australian Customers Telephone: (03) 9349-1118
International Customers Telephone: +61-3-9349-1118