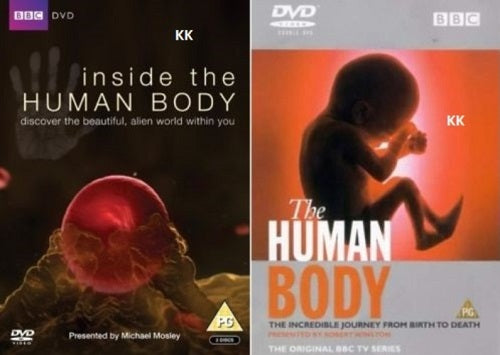 The Human Body + Inside the Human Body Series 1 Season New DVD Double Region 4
Buy With Confidence
Free Shipping (Australia Only)
Australia Wide
Peace of Mind
60 Day Return
The Human Body + Inside the Human Body Series 1 Season New DVD Region Region 4
This Region 4 DVD is IN STOCK in our Australian warehouse.
Please note image may vary
This listing is for both DVD releases The Human Body and also Inside the Human Body
Inside The Human Body
Michael Mosley embarks on an astonishing voyage through the world's most complex organism--you.
Inside The Human Body takes us deep under our skin where we are dwarfed by even the smallest cell, where blood vessels become vast cathedrals and the tiniest cluster of cilia becomes an expansive forest.
Our body's almost infinite ability to adapt and surprise is illustrated by the stories of remarkable characters whose bodies allow them to do amazing things, live in incredible places and push their physiology to the limits. Spectacular photography shows human behaviour in super slow motion, revealing elements of ourselves that we are completely unaware of.
The Human Body
The Human Body documentary is the sort of televisual undertaking that continues to justify the BBC licence fee. Presented by Robert Winston, it takes us on a journey from birth to death using time-lapse photography, computer graphics and various state-of-the-art imaging techniques to explore every aspect, every nook and crevice of the human body in its various stages of growth, maturity and eventual decay. Conception, toddlerhood, the awkward growing pains of adolescence, the incredibly complex workings of the brain (which burns up more energy than any other part of the human body, viewers of daytime TV included, apparently) and finally death are vividly depicted and explained. Winston's lucid, avuncular tones make The Human Body accessible to an intelligent 10-year-old and ages upward, though the more squeamish viewer might baulk at scenes of food being digested, or childbirth in all its inevitable messiness. Statistics abound--the average human will eat for three-and-a-half years during his or her lifetime, eat 160kg of chocolate and spend six months on the toilet. Though heart-warming in that it shows the commonality of human experience, The Human Body is also a potentially depressing reminder of our frail physicality and mortality. However, the most moving programme here features Herbie, a cancer victim who, in agreeing to have his last moments filmed as he lies dying in a hospice, has perhaps achieved a deserved immortality through this programme.
Zone/Region: 2 + 4
Cast: George Michael Mosley
Running time: N/A minutes

Australia Wide:
We offer FREE Shipping, Australia wide on any order. No minimum purchase value! Free shipping is via Australia post.
Express and registered post are also available at an additional fee.
Shipping Time
Orders are generally dispatched with 48 hours of your payment being processed (Excluding weekends and public holidays). Delivery time will vary depending on your location within Australia and should be no more than 3 - 9 working days. Please note postal services do not operate on Public Holidays and weekends.
We offer a 60 day returns policy on all items. We will exchange any item or give you a full refund if:
» Your item is defective i.e. a manufacturing fault
» You have been sent the wrong item.
Return postage costs will be refunded in full upon receipt. Please contact us prior to returning an item.
Change of mind within 60 days is accepted as long as the item is unopened and returned in original condition. (Return Post to be paid by buyer)
Satisfaction Guarantee
We want to make sure that your online shopping experience with Kish Kash Entertainment is a pleasant one. If you are not completely satisfied with your order or any part of your dealings with Kish Kash Entertainment please contact us so that we can rectify any problems.
Contact us: webstore@kishkash.com.au
or via the telephone 9am-3pm Mon-Fri :
Australian Customers Telephone: (03) 9349-1118
International Customers Telephone: +61-3-9349-1118