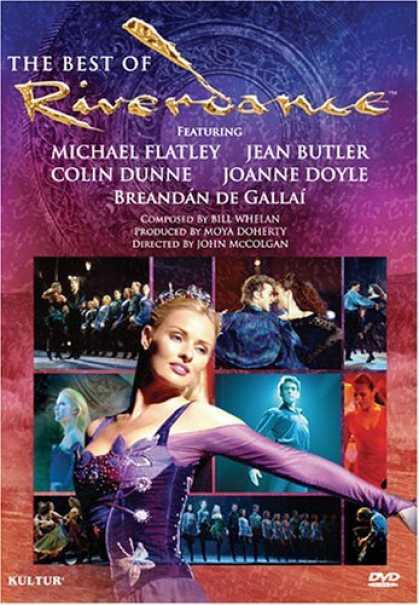 The Best Of Riverdance (Michael Flatley Jean Butler) Region 4 New DVD
Buy With Confidence
Free Shipping (Australia Only)
Australia Wide
Peace of Mind
60 Day Return
The Best Of Riverdance (Michael Flatley) Region 4 New DVD
The DVD debut of Michael Flatley's performance in Riverdance (or at least part of it) is one of the highlights of The Best of Riverdance, a generous survey of the Irish hard-shoe sensation that has riveted live audiences and PBS viewers for a decade. Beginning with the 1994 Eurovision Song Contest performance that led to the full-length stage show, the program compiles a number of highlights from the show's history, taken mostly from three sources. There's the original 1995 televised show starring the flamboyant, record-setting tapper Flatley and his partner, Jean Butler. There's the 1997 New York City concert, with Colin Dunne opposite Butler. And finally there's the 2003 performance from Geneva headlined by Brendán de Gallaí and Joanne Doyle. Because elements of the show and numerous performers have changed over the years, each performance has its own character, and The Best of Riverdance even takes the unusual step of blending segments of various shows into a single number. For example, "Riverdance" switches back and forth among the three shows and the three sets of leads. "Lift the Wings" begins with two verses of the solo voice of Áine Uí Cheallaigh, then segues into segments from the ensemble-sung version from New York and Geneva. Because the solo rendition was one of the biggest losses of later generations of the show, it's nice to have at least part of it on DVD. Likewise, because Flatley's complete Riverdance performance is not yet available on DVD, fans will be glad to have at least a few numbers here. Other later-generation numbers included are "American Wake" and "Trading Taps," and the DVD menu screens very clear note which performer or combination of performers is performing.
Brand new in this nearly two-hour program are occasional introductions by Jean Butler, which help explain some of the ambiguous stage action. Bonus features are a new one-hour documentary about the history of the show, 16 minutes of high-speed backstage footage, and an eight-minute performance from the 2003 Special Olympics. Some viewers may find the introductions or the performance switches jarring to the flow, and The Best of Riverdance is surely not a substitute for the complete performances of the show, but it is a nice compilation, and offers some footage that you can't see anywhere else. --David Horiuchi
Special Features
18 of the all-time best performances
Riverdance: The 10 Years: all-new 65-minute documentary
Riverdance: Behind the Scenes: never-before-seen footage of the backstage crew in action
Performance at the Special Olympics opening ceremony
Cast: Michael Flatley, Jean Butler, Brendán de Gallaí, Eileen Martin, Areleen Ni Bhaoill
Region / Zone: 1 + 4
Running Time: 113 minutes
DVD Cover Image: Please note that the DVD cover image may vary.
Australia Wide:
We offer FREE Shipping, Australia wide on any order. No minimum purchase value! Free shipping is via Australia post.
Express and registered post are also available at an additional fee.
Shipping Time
Orders are generally dispatched with 48 hours of your payment being processed (Excluding weekends and public holidays). Delivery time will vary depending on your location within Australia and should be no more than 3 - 9 working days. Please note postal services do not operate on Public Holidays and weekends.
We offer a 60 day returns policy on all items. We will exchange any item or give you a full refund if:
» Your item is defective i.e. a manufacturing fault
» You have been sent the wrong item.
Return postage costs will be refunded in full upon receipt. Please contact us prior to returning an item.
Change of mind within 60 days is accepted as long as the item is unopened and returned in original condition. (Return Post to be paid by buyer)
Satisfaction Guarantee
We want to make sure that your online shopping experience with Kish Kash Entertainment is a pleasant one. If you are not completely satisfied with your order or any part of your dealings with Kish Kash Entertainment please contact us so that we can rectify any problems.
Contact us: webstore@kishkash.com.au
or via the telephone 9am-3pm Mon-Fri :
Australian Customers Telephone: (03) 9349-1118
International Customers Telephone: +61-3-9349-1118