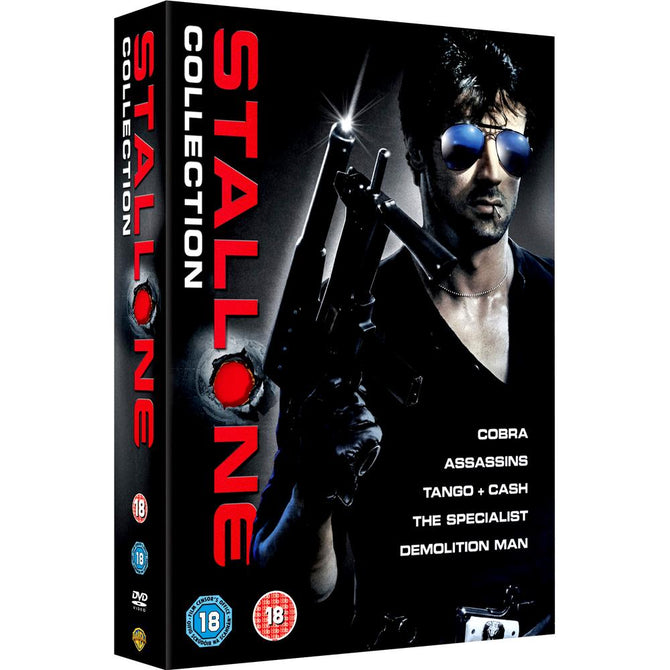 Sylvester Stallone 5 Film Collection Cobra Tango and Cash Demolition Man R2 DVD
Buy With Confidence
Free Shipping (Australia Only)
Australia Wide
Peace of Mind
60 Day Return
Sylvester Stallone Collection (Sylvester Stallone) New Region 2 DVD Box Set
***** This DVD is In Stock in our Melbourne Warehouse*****
This is a Region 2 (England and Europe) DVD and will only play in Australia and New Zealand if you have a MULTI-REGION DVD player or a Region 2 DVD player. It will NOT play on a Region 4 only (Australia and New Zealand) DVD player.
Please note image may vary
Collection of five films starring Sylvester Stallone. In 'Assassins' (1995) professional hitman Rath (Stallone) decides it's time to call it a day, even though he is still the best around. But as he searches for a way out he discovers that he is now the target of another assassin, Bain (Antonio Banderas), who is determined to be the new number one.
The two men are both sent on an assignment to kill intelligence operative Elektra (Julianne Moore). However, Rath decides to flee with Elektra and outwit Bain. In 'The Specialist' (1994) US demolition expert Ray Quick (Stallone) attempts to abort the assassination of a South American drugs baron when he realises innocent children will be killed in the explosion.
However, his partner (James Woods) goes ahead with the mission, leaving the duo permanently estranged and Quick psychologically scarred. Years later, a beautiful woman (Sharon Stone) asks Quick to come out of retirement to kill a Cuban drug lord who has murdered her father. Quick initially refuses, but is soon drawn into a plot that brings him in contact with his ex-partner once again.
In 'Tango and Cash' (1989) two mismatched cops, one sharp-suited (Stallone), the other a slob (Kurt Russell), are thrown together when they are framed by a big-shot gun-runner (Jack Palance). They are put in prison, duly escape, and then attempt to clear their names whilst trying to track down a massive haul of weapons before they get shipped abroad. In 'Demolition Man' (1993) LA cop John Spartan (Stallone), nicknamed 'Demolition Man' due to his hands-on approach to law enforcement, is condemned to 70 years in the penal freezer after being set up by Simon Phoenix (Wesley Snipes), Public Enemy Number One.
Halfway through his sentence, however, both he and Phoenix are catapulted out of captivity, discovering their city has been transformed into a peaceful utopia, under the benevolent rule of mayor Dr Cocteau (Nigel Hawthorne). As a mysteriously pumped-up Phoenix carries on where he had left off 35 years earlier, Spartan teams up with a comparatively feisty cop (Sandra Bullock) to bring him to justice and expose the man who is engineering the whole scenario. In 'Cobra' (1986) a tough detective known as Cobra (Stallone), is assigned to protect a beautiful model (Brigitte Nielsen), the only witness to a series of brutal murders.
It transpires that the killings are not the work of one lone psychopath but rather a highly organised army of neo-fascists.
Zone/Region: 2
Region 2: Region 2 titles are suitable for England and Europe and will only play in Australia and New Zealand if you have a MULTI-REGION DVD player or a Region 2 DVD player.
Australia Wide:
We offer FREE Shipping, Australia wide on any order. No minimum purchase value! Free shipping is via Australia post.
Express and registered post are also available at an additional fee.
Shipping Time
Orders are generally dispatched with 48 hours of your payment being processed (Excluding weekends and public holidays). Delivery time will vary depending on your location within Australia and should be no more than 3 - 9 working days. Please note postal services do not operate on Public Holidays and weekends.
We offer a 60 day returns policy on all items. We will exchange any item or give you a full refund if:
» Your item is defective i.e. a manufacturing fault
» You have been sent the wrong item.
Return postage costs will be refunded in full upon receipt. Please contact us prior to returning an item.
Change of mind within 60 days is accepted as long as the item is unopened and returned in original condition. (Return Post to be paid by buyer)
Satisfaction Guarantee
We want to make sure that your online shopping experience with Kish Kash Entertainment is a pleasant one. If you are not completely satisfied with your order or any part of your dealings with Kish Kash Entertainment please contact us so that we can rectify any problems.
Contact us: webstore@kishkash.com.au
or via the telephone 9am-3pm Mon-Fri :
Australian Customers Telephone: (03) 9349-1118
International Customers Telephone: +61-3-9349-1118