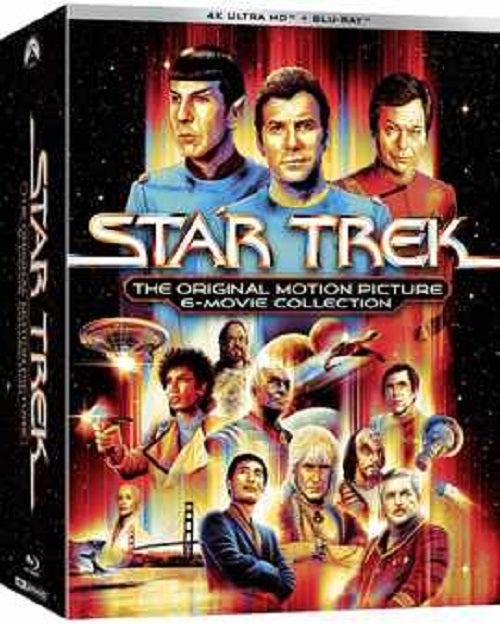 Star Trek Motion Picture Collection 1 2 3 4 5 6 New 4K Ultra HD Region B Blu-ray
Buy With Confidence
Free Shipping (Australia Only)
Australia Wide
Peace of Mind
60 Day Return
Star Trek Motion Picture Collection 1 2 3 4 5 6 New 4K Ultra HD Region B Blu-ray Box Set
***** This is a preorder for a new release item that is not yet released. The release date for this item is 05-09-22. This item will be shipped from our Melbourne Warehouse within 5 days of the release date *****
This is NOT a normal DVD and will NOT play in a standard DVD player. This is a Blu-Ray Disc. The disc is playable only in Blu-Ray Disc compatible players.
Please note image may vary
Collection of six classic sci-fi adventures based on the 1960s TV series. In 'Star Trek: The Motion Picture' (1979) the crew of the USS Enterprise come out of retirement in the 23rd century when Earth is threatened by a massive energy field. Captain James T.
Kirk (William Shatner), now a Starfleet Admiral, Spock (Leonard Nimoy), Bones (DeForest Kelley) and the rest of the starship's crew assemble to investigate the dangerous energy cloud, but can they find a way to stop it from destroying the planet? In 'Star Trek II - The Wrath of Khan' (1982) the crew of the starship Enterprise encounter Khan (Ricardo Montalban), an old foe whom Captain Kirk previously banished to a far corner of the universe. A selectively bred supervillain, Khan threatens to reverse creation with his Genesis Machine, but can Kirk and his crew stop him? In 'Star Trek III - The Search for Spock' (1984) Kirk disregards Starfleet orders and steals the USS Enterprise to venture out on a mission to find the body of Spock. However, on their voyage the crew, including Dr 'Bones' McCoy, who appears to have absorbed part of Spock's spirit, are impeded by marauding Klingons commanded by Kruge (Christopher Lloyd), who are plotting to steal the secrets of the Genesis Device.
In 'Star Trek IV - The Voyage Home' (1986) the crew of the destroyed USS Enterprise abandon the 23rd century for Earth in the year 1986. In order to save the planet from a rogue space probe in the future, the starship's crew must travel back to the 20th century to find the only creature capable of communicating with it: humpback whales. In 'Star Trek V - The Final Frontier' (1989) Kirk, McCoy and Spock have their shore leave cut short when the latter's half-brother - Vulcan renegade Sybok (Laurence Luckinbill) - takes several important ambassadors hostage on the planet Nimbus.
They race to the rescue, unaware that the kidnap is all part of Sybok's ploy to hijack the Enterprise and set out on a quest to discover the Supreme Being. Finally, in 'Star Trek VI - The Undiscovered Country' (1991) the Enterprise is sent to escort the Klingon chancellor to peace negotiations with the Federation. When the chancellor is assassinated, the Klingons refuse to continue negotiations unless Captain Kirk and Dr McCoy are tried for the murder in a Klingon court.
Kirk and McCoy are sentenced to life imprisonment in a penal colony, leaving Spock in charge of the Enterprise and the only one who can solve the riddle of the murder.
Zone Region: B
Region B: Region B titles are suitable for Europe, Middle East, Africa, Australia and New Zealand.
Australia Wide:
We offer FREE Shipping, Australia wide on any order. No minimum purchase value! Free shipping is via Australia post.
Express and registered post are also available at an additional fee.
Shipping Time
Orders are generally dispatched with 48 hours of your payment being processed (Excluding weekends and public holidays). Delivery time will vary depending on your location within Australia and should be no more than 3 - 9 working days. Please note postal services do not operate on Public Holidays and weekends.
We offer a 60 day returns policy on all items. We will exchange any item or give you a full refund if:
» Your item is defective i.e. a manufacturing fault
» You have been sent the wrong item.
Return postage costs will be refunded in full upon receipt. Please contact us prior to returning an item.
Change of mind within 60 days is accepted as long as the item is unopened and returned in original condition. (Return Post to be paid by buyer)
Satisfaction Guarantee
We want to make sure that your online shopping experience with Kish Kash Entertainment is a pleasant one. If you are not completely satisfied with your order or any part of your dealings with Kish Kash Entertainment please contact us so that we can rectify any problems.
Contact us: webstore@kishkash.com.au
or via the telephone 9am-3pm Mon-Fri :
Australian Customers Telephone: (03) 9349-1118
International Customers Telephone: +61-3-9349-1118