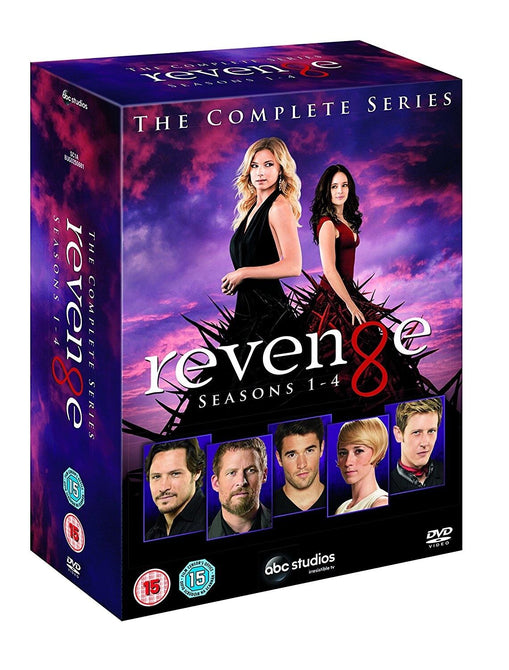 Revenge The Complete Series Season 1 2 3 4 Collection New Region 4 DVD
Buy With Confidence
Free Shipping (Australia Only)
Australia Wide
Peace of Mind
60 Day Return
Revenge Season 1 2 3 4 The Complete Series (Emily VanCamp) New Region 4 DVD
This Region 4 (Australia and New Zealand) DVD is in Stock in our Melbourne Warehouse
Please note image may vary
Every episode from all four seasons of the American TV drama created by Mike Kelley and inspired by Alexandre Dumas's novel 'The Count of Monte Cristo'. When Emily Thorne (Emily VanCamp) moves to the Hamptons for the summer she is welcomed by the residents into their privileged community. Little do they know that Emily is in fact Amanda Clarke, a girl who lived in the Hamptons when she was younger come to seek revenge for the wrongs suffered by her father at the hands of the woman he loved, Victoria Grayson (Madeleine Stowe).
Victoria is now a prominent member of the local community and a tempting target, but Emily's vengeful designs are complicated when she unexpectedly falls for her enemy's son Daniel (Josh Bowman). Season 1 episodes are: 'Pilot', 'Trust', 'Betrayal', 'Duplicity', 'Guilt', 'Intrigue', 'Charade', 'Treachery', 'Suspicion', 'Loyalty', 'Duress', 'Infamy', 'Commitment', 'Perception', 'Chaos', 'Scandal', 'Doubt', 'Justice', 'Absolution', 'Legacy', 'Grief' and 'Reckoning'. Season 2 episodes are: 'Destiny', 'Resurrection', 'Confidence', 'Intuition', 'Forgiveness', 'Illusion', 'Penance', 'Lineage', 'Revelations', 'Power', 'Sabotage', 'Collusion', 'Union', 'Sacrifice', 'Retribution', 'Illumination', 'Victory', 'Masquerade', 'Identity', 'Engagement', 'Truth: Part 1' and 'Truth: Part 2'.
Series 3 episodes are: 'Fear', 'Sin', 'Confession', 'Mercy', 'Control', 'Dissolution', 'Resurgence', 'Secrecy', 'Surrender', 'Exodus', 'Homecoming', 'Endurance', 'Hatred', 'Payback', 'Struggle', 'Disgrace', 'Addiction', 'Blood', 'Allegiance', 'Revolution', 'Impetus' and 'Execution'. Season 4 episodes are: 'Renaissance', 'Disclosure', 'Ashes', 'Meteor', 'Repercussions', 'Damage', 'Ambush', 'Contact', 'Intel', 'Atonement', 'Epitaph', 'Madness', 'Abduction', 'Kindred', 'Bait', 'Retaliation', 'Loss', 'Clarity', 'Exposure', 'Burn', 'Aftermath', 'Plea' and 'Two Graves'.
Zone/Region: 4
Australia Wide:
We offer FREE Shipping, Australia wide on any order. No minimum purchase value! Free shipping is via Australia post.
Express and registered post are also available at an additional fee.
Shipping Time
Orders are generally dispatched with 48 hours of your payment being processed (Excluding weekends and public holidays). Delivery time will vary depending on your location within Australia and should be no more than 3 - 9 working days. Please note postal services do not operate on Public Holidays and weekends.
We offer a 60 day returns policy on all items. We will exchange any item or give you a full refund if:
» Your item is defective i.e. a manufacturing fault
» You have been sent the wrong item.
Return postage costs will be refunded in full upon receipt. Please contact us prior to returning an item.
Change of mind within 60 days is accepted as long as the item is unopened and returned in original condition. (Return Post to be paid by buyer)
Satisfaction Guarantee
We want to make sure that your online shopping experience with Kish Kash Entertainment is a pleasant one. If you are not completely satisfied with your order or any part of your dealings with Kish Kash Entertainment please contact us so that we can rectify any problems.
Contact us: webstore@kishkash.com.au
or via the telephone 9am-3pm Mon-Fri :
Australian Customers Telephone: (03) 9349-1118
International Customers Telephone: +61-3-9349-1118