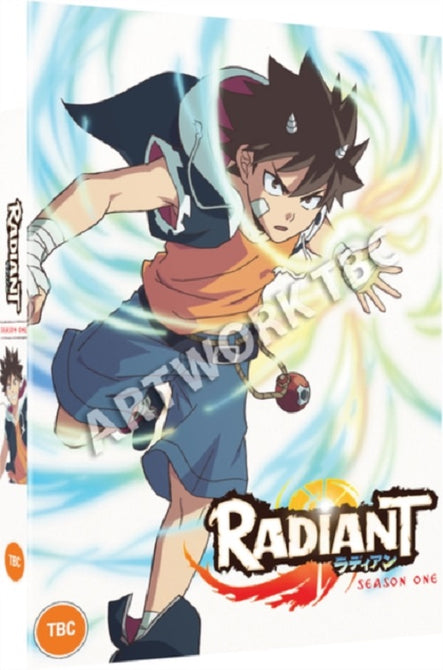 Radiant Season 1 Series One First (Aoi Yuuki Yumiri Hanamori) New DVD Box Set
Buy With Confidence
Free Shipping (Australia Only)
Australia Wide
Peace of Mind
60 Day Return
Radiant Season 1 Series One First (Aoi Yuuki, Yumiri Hanamori) New DVD Box Set
***** This is a preorder for a new release item that is not yet released. The release date for this item is 29-08-22. This item will be shipped from our Melbourne Warehouse within 5 days of the release date *****
This is a Region 2 (England and Europe) DVD and will only play in Australia and New Zealand if you have a MULTI-REGION DVD player or a Region 2 DVD player. It will NOT play on a Region 4 only (Australia and New Zealand) DVD player.
Please note image may vary
All 21 episodes of the first season of the Japanese anime based on the comic book series by Tony Valente. Monsters known as Nemeses drop from the sky and infect everyone within the vicinity, resulting in them becoming cursed. However, surviving such an attack also means you gain magic abilities and such people become known as Sorcerers.
Teenager Seth (voice of Yumiri Hanamori) is a Sorcerer and dreams of ending the persecution that Sorcerers face from the rest of humanity. In order to do so he sets out to destroy the Nemeses once and for all by travelling to their place of origin, Radiant. Along the way he enlists the help of Mélie (Aoi Yuuki) and Doc (Shintarou Oohata).
The episodes are: 'The Young Sorcerer - Seth', 'True Courage - Bravery', 'The Day of Departure - Alma', 'A Meeting in the Sky - Encounter', 'A Paradise of Wisdom and Hope - Artemis', 'Drops of Friendship - Melie', 'The Beast of the Underground Water System - Monster', 'Proof of Strength - Progress', 'Those Who Hunt Heretics - Inquisition', 'Broom of Memories - Memory', 'The City That Roars Like Thunder - Rumble Town', 'The Shadow Lurking in the City - Darkness', 'Overture of Turbulence - Storm', 'The Bell Tolls the Sound of Destruction - Catastrophe', 'With Fists Like Shooting Stars - Burst', 'Fly High and Pierce Through the Storm - Rising', 'To Stop the Sound of the Wind - Serenade', 'The Light That Follows the Darkness - Awakening', 'The World That You Changed - Relief', 'Omen - Sign' and 'In Search of the Future - Utopia'.
Zone/Region: 2
Region 2: Region 2 titles are suitable for England and Europe and will only play in Australia and New Zealand if you have a MULTI-REGION DVD player or a Region 2 DVD player.
Australia Wide:
We offer FREE Shipping, Australia wide on any order. No minimum purchase value! Free shipping is via Australia post.
Express and registered post are also available at an additional fee.
Shipping Time
Orders are generally dispatched with 48 hours of your payment being processed (Excluding weekends and public holidays). Delivery time will vary depending on your location within Australia and should be no more than 3 - 9 working days. Please note postal services do not operate on Public Holidays and weekends.
We offer a 60 day returns policy on all items. We will exchange any item or give you a full refund if:
» Your item is defective i.e. a manufacturing fault
» You have been sent the wrong item.
Return postage costs will be refunded in full upon receipt. Please contact us prior to returning an item.
Change of mind within 60 days is accepted as long as the item is unopened and returned in original condition. (Return Post to be paid by buyer)
Satisfaction Guarantee
We want to make sure that your online shopping experience with Kish Kash Entertainment is a pleasant one. If you are not completely satisfied with your order or any part of your dealings with Kish Kash Entertainment please contact us so that we can rectify any problems.
Contact us: webstore@kishkash.com.au
or via the telephone 9am-3pm Mon-Fri :
Australian Customers Telephone: (03) 9349-1118
International Customers Telephone: +61-3-9349-1118