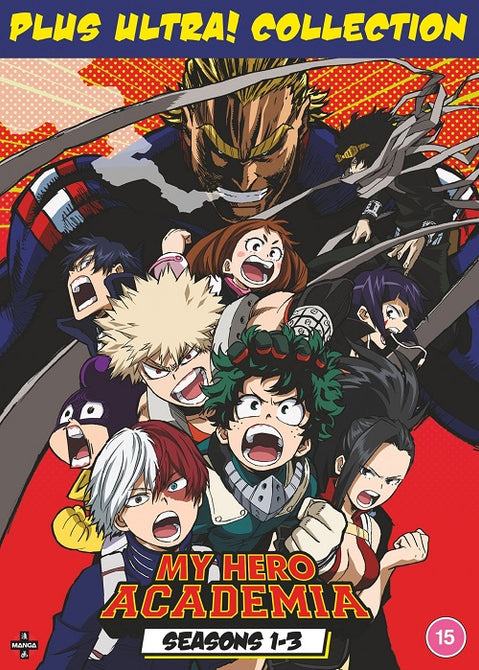 My Hero Academia Plus Utra Collection Season 1 2 3 New Region 2 DVD Box Set
Buy With Confidence
Free Shipping (Australia Only)
Australia Wide
Peace of Mind
60 Day Return
My Hero Academia Plus Utra Collection Season 1 2 3 New Region 2 DVD Box Set
***** This DVD is In Stock in our Melbourne Warehouse*****
This is a Region 2 (England and Europe) DVD and will only play in Australia and New Zealand if you have a MULTI-REGION DVD player or a Region 2 DVD player. It will NOT play on a Region 4 only (Australia and New Zealand) DVD player.
Please note image may vary
All the episodes from all three seasons of the Japanese anime based in a world where the majority of the population possess superpowers known as Quirks. Student Izuku Midoriya (voice of Daiki Yamashita) dreams of one day becoming a hero despite the fact he doesn't have a Quirk. Determined to achieve his goals, Izuku attends The Hero Academy and soon catches the eye of renowned hero All Might (Kenta Miyake), who agrees to train him.
Season 1 episodes are: 'Izuku Midoriya: Origin', 'What It Takes to Be a Hero', 'Roaring Muscles', 'Start Line', 'What I Can Do for Now', 'Rage, You Damned Nerd', 'Deku Vs Kacchan', 'Bakugo's Start Line', 'Yeah, Just Do Your Best, Iida!', 'Encounter With the Unknown', 'Game Over', 'All Might' and 'In Each of Our Hearts'. Season 2 episodes are: 'That's the Idea, Ochaco', 'Roaring Sports Festival', 'In Their Own Quirky Ways', 'Strategy, Strategy, Strategy', 'Cavalry Battle Finale', 'The Boy Born With Everything', 'Victory Or Defeat', 'Battle On, Challengers!', 'Bakugo Vs Uraraka', 'Shoto Todoroki: Origin', 'Fight On, Iida', 'Todoroki Vs Bakugo', 'Time to Pick Some Names', 'Bizarre! Gran Torino Appears', 'Midoriya and Shigaraki', 'Hero Killer: Stain Vs U.A. Students', 'Climax', 'The Aftermath of Hero Killer: Stain', 'Everyone's Internships', 'Listen Up!! A Tale from the Past', 'Gear Up for Final Exams', 'Yaoyorozu: Rising', 'Stripping the Varnish', 'Katsuki Bakugo: Origin' and 'Encounter'.
Season 3 episodes are: 'Game Start', 'Wild, Wild Pussycats', 'Kota', 'My Hero', 'Drive It Home, Iron Fist!!!', 'Roaring Upheaval', 'What a Twist!', 'From Iida to Midoriya', 'All for One', 'Symbol of Peace', 'One for All', 'End of the Beginning, Beginning of the End', 'Moving Into Dorms', 'Create Those Ultimate Moves', 'The Test', 'Shiketsu High Lurking', 'Class 1-A', 'RUSH!', 'Rescue Exercises', 'Special Episode: Save the World With Love!', 'What's the Big Idea?', 'A Talk About Your Quirk', 'Deku Vs Kacchan, Part 2', 'A Season of Encounters' and 'Unrivaled'.
Zone/Region: 2
Region 2: Region 2 titles are suitable for England and Europe and will only play in Australia and New Zealand if you have a MULTI-REGION DVD player or a Region 2 DVD player.
Australia Wide:
We offer FREE Shipping, Australia wide on any order. No minimum purchase value! Free shipping is via Australia post.
Express and registered post are also available at an additional fee.
Shipping Time
Orders are generally dispatched with 48 hours of your payment being processed (Excluding weekends and public holidays). Delivery time will vary depending on your location within Australia and should be no more than 3 - 9 working days. Please note postal services do not operate on Public Holidays and weekends.
We offer a 60 day returns policy on all items. We will exchange any item or give you a full refund if:
» Your item is defective i.e. a manufacturing fault
» You have been sent the wrong item.
Return postage costs will be refunded in full upon receipt. Please contact us prior to returning an item.
Change of mind within 60 days is accepted as long as the item is unopened and returned in original condition. (Return Post to be paid by buyer)
Satisfaction Guarantee
We want to make sure that your online shopping experience with Kish Kash Entertainment is a pleasant one. If you are not completely satisfied with your order or any part of your dealings with Kish Kash Entertainment please contact us so that we can rectify any problems.
Contact us: webstore@kishkash.com.au
or via the telephone 9am-3pm Mon-Fri :
Australian Customers Telephone: (03) 9349-1118
International Customers Telephone: +61-3-9349-1118