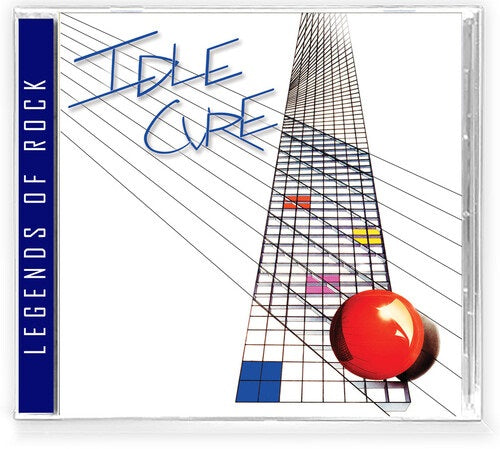 Idle Cure Self Titled New CD
Buy With Confidence
Free Shipping (Australia Only)
Australia Wide
Peace of Mind
60 Day Return
Idle Cure Self Titled New CD
***** This is a preorder for a new release CD that is not yet released. The release date for this item is 26-08-22. This item will be shipped from our Melbourne Warehouse within 5 days of the release date *****
Please note image may vary
Idle Cure was an arena rock band from southern California similar to bands like Def Leppard, Foreigner, Loverboy, Night Ranger, Journey, Shout, Degarmo and Key and Whiteheart. Before the famous self-titled album IDLE CURE dropped in 1986, Chuck King (guitarist), Mark Ambrose (guitarist), and Steve Shannon (vocals) were in a band called EDEN. Eden recorded the hit song, "Break out of the Night" for the Back to The Rock #2 compilation in 1983. That song was written by Roger Charles. The beginnings of Idle Cure actually started with Roger's band SOJOURN back in 1979, and included Mark Ambrose and Steve Shannon. Eden recorded their first songs in the John Elefante Studio. Mark Ambrose led John Elefante to the Lord. When Sojourn (pre-Eden) went on tour, their current guitarist couldn't travel with them, so they asked Chuck King (who went on to play with Shout) to play guitar. Sojourn fell apart. Chuck and Roger Charles stayed together and started the band Eden. While recording, their singer couldn't sing the high notes, so Roger Charles called Steve Shannon at 10pm, and Steve came over and recorded the song for the Back to the Rock #2 compilation. It was the only song ever recorded by the band and is now included as the 10th song on this album. From there, Idle Cure was born. In 1986, Idle Cure launched their self-titled album on the newly formed Frontline Records. The response was both remarkable and immediate. "Breakaway" was a runaway hit on major Christian Rock radio stations and could have fit perfectly on Def Leppard's Pyromania album. All the members played in previous mainstream bands which explains why they were able to build that arena rock sound. By 1990, Idle Cure was dominating rock radio with their more produced second album TOUGH LOVE (1988), but they scored big with "Pray" a stadium rocker from their quasi-metal album 2ND AVENUE (1990). It was the #1 song for the entire year. INSIDE OUT was recorded in 1991. ECLIPSE (1994) was the bands last album, and also their heaviest, loaded with guitar solos. It absolutely Eclipses their previous releases without abandoning their signature rockin' sound. Eclipse is an amazing performance by a legendary group. If you've never heard this one, it's probably because it was released independently in 1994 with little to no distribution. It starts right off with "What's Your Point of View" a little bit of AC/DC guitar vibe and then smacks you in the face with that rockin' Idle Cure thunderous sound. It's tough, it's bad, it screams, it's hot. The album contains the original 9 songs plus the bonus song "Breakout Of the Night".
Disc 1 1 Breakaway 2 Silent Hope 3 Take It 4 Feeling the Heat 5 Come Back to Me 6 Overdrive 7 From the Heart 8 Come Alive 9 Break Out of the Night (Eden) Bonus Track
Australia Wide:
We offer FREE Shipping, Australia wide on any order. No minimum purchase value! Free shipping is via Australia post.
Express and registered post are also available at an additional fee.
Shipping Time
Orders are generally dispatched with 48 hours of your payment being processed (Excluding weekends and public holidays). Delivery time will vary depending on your location within Australia and should be no more than 3 - 9 working days. Please note postal services do not operate on Public Holidays and weekends.
We offer a 60 day returns policy on all items. We will exchange any item or give you a full refund if:
» Your item is defective i.e. a manufacturing fault
» You have been sent the wrong item.
Return postage costs will be refunded in full upon receipt. Please contact us prior to returning an item.
Change of mind within 60 days is accepted as long as the item is unopened and returned in original condition. (Return Post to be paid by buyer)
Satisfaction Guarantee
We want to make sure that your online shopping experience with Kish Kash Entertainment is a pleasant one. If you are not completely satisfied with your order or any part of your dealings with Kish Kash Entertainment please contact us so that we can rectify any problems.
Contact us: webstore@kishkash.com.au
or via the telephone 9am-3pm Mon-Fri :
Australian Customers Telephone: (03) 9349-1118
International Customers Telephone: +61-3-9349-1118