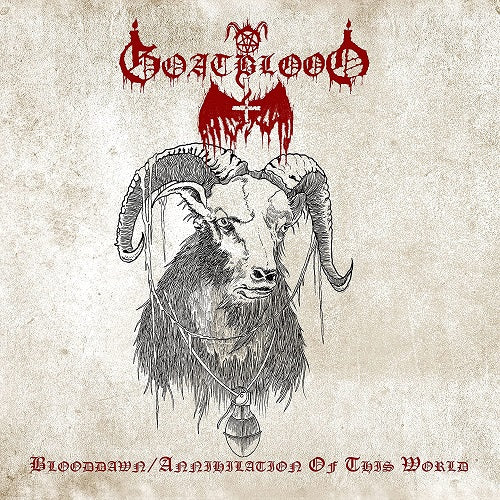 Goatblood Blooddawn Annihilation Of This World 2 Disc New CD
Buy With Confidence
Free Shipping (Australia Only)
Australia Wide
Peace of Mind
60 Day Return
Goatblood Blooddawn Annihilation Of This World 2 Disc New CD
***** This is a preorder for a new release CD that is not yet released. The release date for this item is 02-09-22. This item will be shipped from our Melbourne Warehouse within 5 days of the release date *****
Please note image may vary
For over ten years, Goatblood have established themselves as one of the most bestial and raw Blackened Death Metal acts in the international scene. Hailing from Germany, this duo has been spreading their message of hate, war against abrahamic religion and uncompromising primal violence in a way that is nothing short of a musical Blitzkrieg: pounding hammers accompany blunt and catchy guitar riffs, while demonic growls proclaim ultimate scorn towards the weak. While other bands seek to market themselves with girlish aesthetics and pseudo-intellectualism, Goatblood stay true to the traditional black art of Death and War Metal as known from acts like Blasphemy or Incantation. To commemorate this truly unholy decade of sonic terror, Dunkelheit Produktionen is proud to present "Blooddawn / Annihilation of this World". This massive double CD set is comprised of two studio demos that once again showcase the strengths of this horde. After three highly acclaimed studio albums, this somewhat atavistic approach seems like the only logical step. Back to the roots of guerilla blackened Death Metal, unpolished raw energy and even less artificial sugarcoating than ever before - only death and hate. "Blooddawn / Annihilation of this World" should be enough to convince even the last critic that Goatblood pull no punches. "Blooddawn" kicks this set off, immediately setting a tone of absolute hatred with compositions reminiscent of hymns of destruction, which are still reliant on a certain feeling of groove and semi-melodic virtues that make the 26 minutes pass extremely fast. Despite "Bloodawn"'s brutal aspects, "Annihilation of this World" is where the more War Metal type chaos starts. Living up to it's name, this part of the set reflects the daemonic magnificence of unhinged destruction. The drums are faster, as are the riffs and the all-round semi-dissonance created with wild solos evokes the feeling of goat-headed soldiers directing their flamethrowers towards this rotten world.
- Disc 1 - 1 Intro 2 Brutal Colonized 3 Planet Gut 4 Heinous Runs Out Anus 5 Swept Away By Flood 6 Scum Abortion 7 Entrails Harvester 8 Bombing Blood 9 Outro - Disc 2 - 1 Intro 2 Filthy Fetus 3 Hog House 4 Höhlenspalter 5 Defloration Ax 6 Perverted Brute 7 Traitors Inside 8 The Knights Have Risen 9 Outro
Australia Wide:
We offer FREE Shipping, Australia wide on any order. No minimum purchase value! Free shipping is via Australia post.
Express and registered post are also available at an additional fee.
Shipping Time
Orders are generally dispatched with 48 hours of your payment being processed (Excluding weekends and public holidays). Delivery time will vary depending on your location within Australia and should be no more than 3 - 9 working days. Please note postal services do not operate on Public Holidays and weekends.
We offer a 60 day returns policy on all items. We will exchange any item or give you a full refund if:
» Your item is defective i.e. a manufacturing fault
» You have been sent the wrong item.
Return postage costs will be refunded in full upon receipt. Please contact us prior to returning an item.
Change of mind within 60 days is accepted as long as the item is unopened and returned in original condition. (Return Post to be paid by buyer)
Satisfaction Guarantee
We want to make sure that your online shopping experience with Kish Kash Entertainment is a pleasant one. If you are not completely satisfied with your order or any part of your dealings with Kish Kash Entertainment please contact us so that we can rectify any problems.
Contact us: webstore@kishkash.com.au
or via the telephone 9am-3pm Mon-Fri :
Australian Customers Telephone: (03) 9349-1118
International Customers Telephone: +61-3-9349-1118