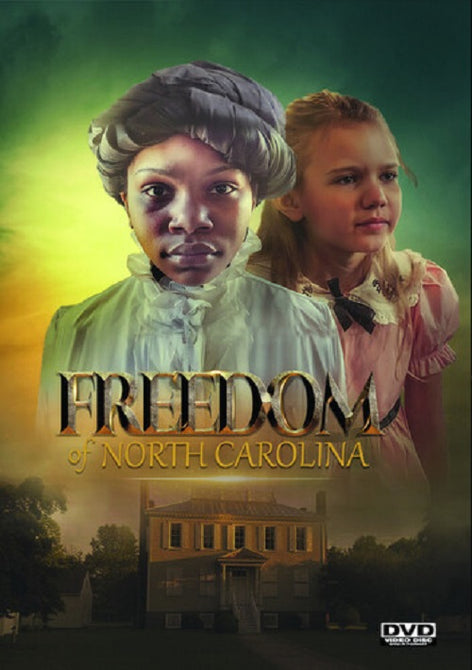 Freedom Of North Carolina (Vinetrice Reynolds Sarabeth Marie Franz) New DVD
Buy With Confidence
Free Shipping (Australia Only)
Australia Wide
Peace of Mind
60 Day Return
Freedom Of North Carolina (Vinetrice Reynolds, Sarabeth Marie Franz) New DVD
***** This is a preorder for a new release item that is not yet released. The release date for this item is 23-08-22. This item will be shipped from our Melbourne Warehouse within 5 days of the release date *****
This is a Region 2 (England and Europe) DVD and will only play in Australia and New Zealand if you have a MULTI-REGION DVD player or a Region 2 DVD player. It will NOT play on a Region 4 only (Australia and New Zealand) DVD player.
Please note image may vary
Sarah Jones is a fourteen-year-old little slave girl who dreams of her family one day living outside the hoperville plantation in Washington, North Carolina. There's only one elder who has the answer to what Sarah needs and shares it with her just before she dies. Sarah must convince to her mother and five brothers that she must get in the big house to recover a doll that has a map on it to the freedom land. The family is hysterical and totally against it because of the risk that is involved, but after Sarah expresses this is what she has to do with or without them there was no turning back. Not long after Sarah retrieve the doll, she began executing her plan for her family freedom but there was a price to pay. Sarah then gets her family, and they escape at night. They ran and did not look back until they got to FREEDOM land called Regur, a magical place which name means Black Soil. Her family's world is forever changed in this land where Black Kings and Queens RULE!
Zone/Region: 2
Region 2: Region 2 titles are suitable for England and Europe and will only play in Australia and New Zealand if you have a MULTI-REGION DVD player or a Region 2 DVD player.
Australia Wide:
We offer FREE Shipping, Australia wide on any order. No minimum purchase value! Free shipping is via Australia post.
Express and registered post are also available at an additional fee.
Shipping Time
Orders are generally dispatched with 48 hours of your payment being processed (Excluding weekends and public holidays). Delivery time will vary depending on your location within Australia and should be no more than 3 - 9 working days. Please note postal services do not operate on Public Holidays and weekends.
We offer a 60 day returns policy on all items. We will exchange any item or give you a full refund if:
» Your item is defective i.e. a manufacturing fault
» You have been sent the wrong item.
Return postage costs will be refunded in full upon receipt. Please contact us prior to returning an item.
Change of mind within 60 days is accepted as long as the item is unopened and returned in original condition. (Return Post to be paid by buyer)
Satisfaction Guarantee
We want to make sure that your online shopping experience with Kish Kash Entertainment is a pleasant one. If you are not completely satisfied with your order or any part of your dealings with Kish Kash Entertainment please contact us so that we can rectify any problems.
Contact us: webstore@kishkash.com.au
or via the telephone 9am-3pm Mon-Fri :
Australian Customers Telephone: (03) 9349-1118
International Customers Telephone: +61-3-9349-1118