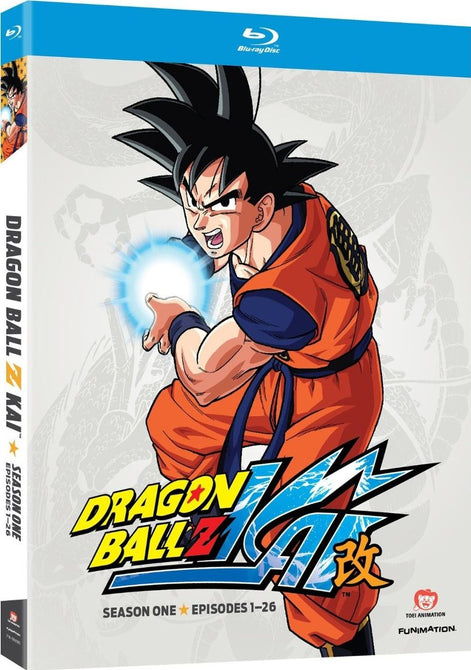 Dragon Ball Z KAI Season 1 Series One Episodes 1 - 26 New Region B Blu-ray
Buy With Confidence
Free Shipping (Australia Only)
Australia Wide
Peace of Mind
60 Day Return
Dragon Ball Z KAI Season 1 Series One First (Masako Nozawa) New Region B Blu-ray
***** This Region B Blu-ray is In Stock in our Melbourne Warehouse*****
This is NOT a normal DVD and will NOT play in a standard DVD player. This is a Blu-Ray Disc. The disc is playable only in Blu-Ray Disc compatible players.
Please note image may vary
The complete first season, comprising episodes 1-26 of the Japanese anime remake following the adventures of Goku (voice of Masako Nozawa) as he attempts to save the Earth from an alien invasion. The episodes are: 'Prologue to Battle! The Return of Son Goku!', 'The Enemy Is Goku's Brother?! The Secret of the Mighty Saiyan Warriors', 'A Life-Or-Death Battle! Goku and Piccolo's Ferocious Suicide Attack', 'Run in the Afterlife, Son Goku! The One Million Snake Way!', 'Wilderness Survival! A Moonlit Night Awakens Gohan', 'The End of the Line Is Reached! Playful Trials of Kaiosama', 'The Battle With 10-Times Gravity! Goku, Your Training Is a Race', 'Come Forth, Shenlong! The Saiyans Finally Arrive On Earth', 'Yamucha's Struggle! The Terrible Saibaimen', 'Sit Tight, Chaozu! The Screaming Kikoho of Tenshinhan', 'Will Son Goku Be in Time?! 3 Hours Until the Battle Resumes', 'Tears Shed By Piccolo... Son Goku's Furious Counterattack!', 'This Is the Kaioken! The Critical Battle of Goku Vs Vegeta', 'The Impact of the Kamehameha! Vegeta's Tenacious Transformation', 'Goku in Absolute Peril! Entrust Your Wishes to the Genki Dama', 'The Invincible Vegeta Defeated! Son Gohan Summons a Miracle', 'Dawn of the Fierce Battle...
The Star of Hope Is Piccolo's Homeland', 'The Spaceship That Sleeps in Yunzabit! Blast Off for Planet Namek', 'A Formidable New Enemy! Emperor of the Universe, Freeza', 'Rebellion Against Freeza! Vegeta, Burning With Ambition', 'Protect the Dragon Balls! The Namekian Offensive', 'Dodoria in Terrifying Hot Pursuit! Vegeta Learns the Truth', 'Vegeta's Secret Plan! Tragic Attack Upon the Namekians', 'Resurrected Companions! The Beauty Soldier Zarbon's Demon Transformation', 'Kuririn's Power-Up! The Foreboding Squirming of Freeza' and 'The Conspiracy Completely Shatters! Vegeta's Counterattack Vs Zarbon'.
Zone Region: B
Region B: Region B titles are suitable for Europe, Middle East, Africa, Australia and New Zealand.
Australia Wide:
We offer FREE Shipping, Australia wide on any order. No minimum purchase value! Free shipping is via Australia post.
Express and registered post are also available at an additional fee.
Shipping Time
Orders are generally dispatched with 48 hours of your payment being processed (Excluding weekends and public holidays). Delivery time will vary depending on your location within Australia and should be no more than 3 - 9 working days. Please note postal services do not operate on Public Holidays and weekends.
We offer a 60 day returns policy on all items. We will exchange any item or give you a full refund if:
» Your item is defective i.e. a manufacturing fault
» You have been sent the wrong item.
Return postage costs will be refunded in full upon receipt. Please contact us prior to returning an item.
Change of mind within 60 days is accepted as long as the item is unopened and returned in original condition. (Return Post to be paid by buyer)
Satisfaction Guarantee
We want to make sure that your online shopping experience with Kish Kash Entertainment is a pleasant one. If you are not completely satisfied with your order or any part of your dealings with Kish Kash Entertainment please contact us so that we can rectify any problems.
Contact us: webstore@kishkash.com.au
or via the telephone 9am-3pm Mon-Fri :
Australian Customers Telephone: (03) 9349-1118
International Customers Telephone: +61-3-9349-1118