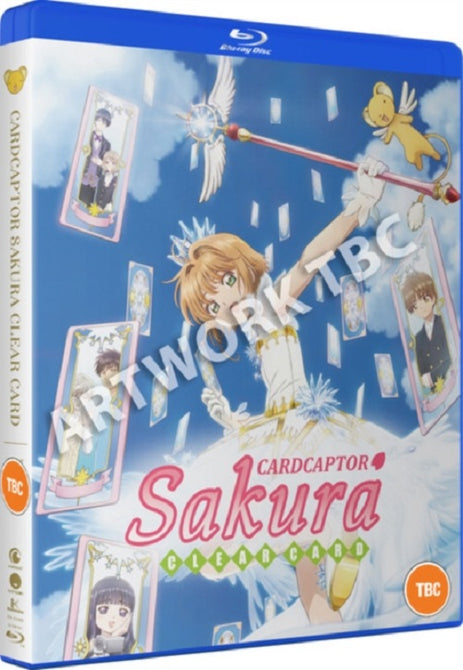 Cardcaptor Sakura Clearcard The Complete Series New Region B Blu-ray Box Set
Buy With Confidence
Free Shipping (Australia Only)
Australia Wide
Peace of Mind
60 Day Return
Cardcaptor Sakura Clearcard The Complete Series New Region B Blu-ray Box Set
***** This is a preorder for a new release item that is not yet released. The release date for this item is 29-08-22. This item will be shipped from our Melbourne Warehouse within 5 days of the release date *****
This is NOT a normal DVD and will NOT play in a standard DVD player. This is a Blu-Ray Disc. The disc is playable only in Blu-Ray Disc compatible players.
Please note image may vary
All 22 episodes of the Japanese anime sequel to 'Cardcaptor Sakura'. Sakura Kinomoto (voice of Sakura Tange) has just started high school when all the Sakura Cards go blank and become powerless. Sakura and her friends, along with the mystical Cerberus (Aya Hisakawa) and Yue (Megumi Ogata), must discover the source of the problem and return the magical properties back to the cards.
The episodes are: 'Sakura and the Clear Cards', 'Sakura and the Room With No Exit', 'Sakura's Heavy Rain Alert', 'Sakura and the Lovely Transfer Student', 'Sakura Feels a Pull at the Flower Viewing', 'Sakura, the Rabbit and the Song of the Moon', 'Sakura and a Game of Tag in the Garden', 'Sakura, the Clock, and a Hide-and-Seek Game', 'Sakura's Thrilling Aquarium Visit', 'Sakura and the Sleep Labyrinth', 'Sakura and the Upside-Down Penguin', 'Sakura and the Ice Ball-Sports Tournament', 'Sakura and Meiling's Return', 'Sakura, the Shrine and the Zoo', 'Sakura's Nostalgic Viewing Party', 'Sakura and Meiling's Friend', 'Sakura and the Crazy Sweets', 'Sakura, the Fire and Water Bird', 'Sakura and Akiho's Lullaby', 'Sakura, Rainbows, and Grandpa', 'Sakura, the Mirror and the Key of Memories' and 'Sakura's Clear Cards'.
Zone Region: B
Region B: Region B titles are suitable for Europe, Middle East, Africa, Australia and New Zealand.
Australia Wide:
We offer FREE Shipping, Australia wide on any order. No minimum purchase value! Free shipping is via Australia post.
Express and registered post are also available at an additional fee.
Shipping Time
Orders are generally dispatched with 48 hours of your payment being processed (Excluding weekends and public holidays). Delivery time will vary depending on your location within Australia and should be no more than 3 - 9 working days. Please note postal services do not operate on Public Holidays and weekends.
We offer a 60 day returns policy on all items. We will exchange any item or give you a full refund if:
» Your item is defective i.e. a manufacturing fault
» You have been sent the wrong item.
Return postage costs will be refunded in full upon receipt. Please contact us prior to returning an item.
Change of mind within 60 days is accepted as long as the item is unopened and returned in original condition. (Return Post to be paid by buyer)
Satisfaction Guarantee
We want to make sure that your online shopping experience with Kish Kash Entertainment is a pleasant one. If you are not completely satisfied with your order or any part of your dealings with Kish Kash Entertainment please contact us so that we can rectify any problems.
Contact us: webstore@kishkash.com.au
or via the telephone 9am-3pm Mon-Fri :
Australian Customers Telephone: (03) 9349-1118
International Customers Telephone: +61-3-9349-1118