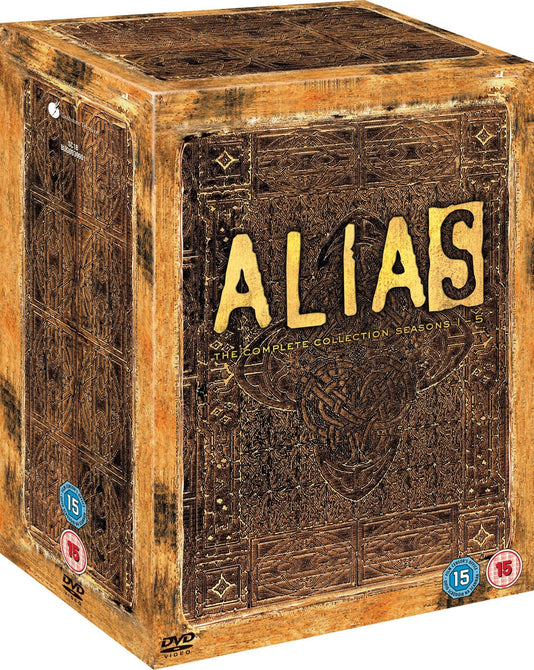 Alias The Complete Collection Season 1 - 5 Series 1 2 3 4 5 Region 4 25xDVDs
Buy With Confidence
Free Shipping (Australia Only)
Australia Wide
Peace of Mind
60 Day Return
Alias Season 1 2 3 4 5 Complete Series Collection (Jennifer Garner) Region 4 DVD
This Region 4 (Australia and New Zealand) DVD is in Stock in our Melbourne Warehouse
Please note image may vary
Every episode of the television action series starring Jennifer Garner as Sydney Bristow, an agent for a secret anti-terrorist division of the CIA. Episodes are: 'Truth Be Told', 'So It Begins', 'Parity', 'A Broken Heart', 'Doppelganger', 'Reckoning', 'Color Blind', 'Time Will Tell', 'Mea Culpa', 'Spirit', 'The Confession', 'The Box (1)', 'The Box (2)', 'The Coup', 'Page 47', 'The Prophecy', 'Q and A', 'Masquerade', 'Snowman', 'The Solution', 'Rendezvous', 'Almost 30 Years', 'The Enemy Walks In', 'Trust Me', 'Cipher', 'Dead Drop', 'The Indicator', 'Salvation', 'The Counteragent', 'Passage (Part 1)', Passage (Part 2)', 'The Abduction', 'A Higher Echelon', 'The Getaway', 'Phase One', 'Double Agent', 'A Free Agent', 'Firebomb', 'A Dark Turn', 'Truth Takes Time', 'Endgame', 'Countdown', 'Second Double', 'The Telling', 'The Two', 'Succession', 'Reunion', 'A Missing Link', 'Repercussions', 'The Nemesis', 'Prelude', 'Breaking Point', 'Conscious', 'Remnants', 'Full Disclosure', 'Crossings', 'After Six', 'Blowback', 'Facade', 'Taken', 'The Frame', 'Unveiled', 'Hourglass', 'Blood Ties', 'Legacy', 'Resurrection', 'Authorised Personnel Only (Part 1)', 'Authorised Personnel Only (Part 2)', 'The Awful Truth', 'Ice', 'Welcome to Liberty Village', 'Nocturne', 'Detente', 'Echoes', 'A Man of His Word', 'The Index', 'The Road Home', 'The Orphan', 'Tuesday', 'Nightingale', 'Pandora', 'Another Mister Sloane', 'A Clean Conscience', 'Mirage', 'In Dreams', 'The Descent', 'Search and Rescue', 'Before the Flood', 'Prophet Five', '...1...', 'The Shed', 'Mockingbird', 'Out of the Box', 'Solo', 'Fait Accompli', 'Bob', 'The Horizon', 'S.O.S.', 'Maternal Instinct', 'There's Only One Sydney Bristow', '30 Seconds', 'I See Dead People', 'No Hard Feelings', 'Reprisal' and 'All the Time in the World'.
Zone/Region: 4
Australia Wide:
We offer FREE Shipping, Australia wide on any order. No minimum purchase value! Free shipping is via Australia post.
Express and registered post are also available at an additional fee.
Shipping Time
Orders are generally dispatched with 48 hours of your payment being processed (Excluding weekends and public holidays). Delivery time will vary depending on your location within Australia and should be no more than 3 - 9 working days. Please note postal services do not operate on Public Holidays and weekends.
We offer a 60 day returns policy on all items. We will exchange any item or give you a full refund if:
» Your item is defective i.e. a manufacturing fault
» You have been sent the wrong item.
Return postage costs will be refunded in full upon receipt. Please contact us prior to returning an item.
Change of mind within 60 days is accepted as long as the item is unopened and returned in original condition. (Return Post to be paid by buyer)
Satisfaction Guarantee
We want to make sure that your online shopping experience with Kish Kash Entertainment is a pleasant one. If you are not completely satisfied with your order or any part of your dealings with Kish Kash Entertainment please contact us so that we can rectify any problems.
Contact us: webstore@kishkash.com.au
or via the telephone 9am-3pm Mon-Fri :
Australian Customers Telephone: (03) 9349-1118
International Customers Telephone: +61-3-9349-1118