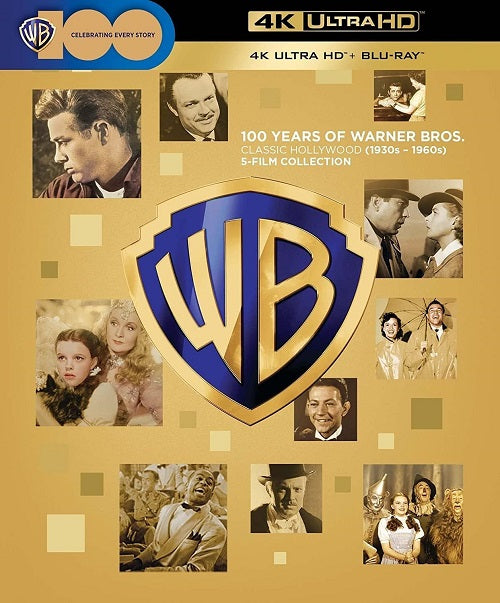 100 Years of Warner Bros Classic Hollywood 1930s 1950s 5 Film Collection Blu-ray
Buy With Confidence
Free Shipping (Australia Only)
Australia Wide
Peace of Mind
60 Day Return
100 Years of Warner Bros Classic Hollywood 1930s 1950s 5 Film Collection Blu-ray Box Set
***** This is a preorder for a new release item that is not yet released. The release date for this item is 14-04-23. This item will be shipped from our Melbourne Warehouse within 5 days of the release date *****
This is NOT a normal DVD and will NOT play in a standard DVD player. This is a Blu-Ray Disc. The disc is playable only in Blu-Ray Disc compatible players.
Please note this is a Region A Blu-ray
Region A: Region A titles are suitable for USA and Canada. To play this Blu-ray in Australia you must have a Blu-ray player that can play all Region A,B and C Blu-rays
Please note image may vary
Ten-disc set includes: The Wizard Of Oz (1939)Follow Dorothy over the rainbow and down the Yellow Brick Road in one of the most beloved films in cinematic history. Not in Kansas anymore after a tornado whisks her away to the Land of Oz, Dorothy is off for adventure in the Emerald City with the Scarecrow, the Tin Woodsman, the Cowardly Lion, and Toto, too, all the while being chased by the Wicked Witch of the West and looking for a way home. Judy Garland, Ray Bolger, Jack Haley, Bert Lahr, Margaret Hamilton, and Frank Morgan star. 102 min. BW&C/Rtg: G Citizen Kane (1941)Director/co-writer/producer/star Orson Welles' landmark debut film, a sweeping chronicle of the rise and fall of an ambitious and ruthless newspaper tycoon named Charles Foster Kane, and the mystery surrounding his dying word, is recognized as one of the greatest and most innovative movies of all time. Welles' "Mercury Players" cast includes Dorothy Comingore, Joseph Cotten, Everett Sloane, Ages Moorehead, Ray Collins, and Ruth Warrick. 119 min. BW/Rtg: PG Casablanca (1942)The winner of three Academy Awards including Best Picture, this drama from director Michael Curtiz is one of the most-loved films ever made. In the early days of World War II, the lives of American club owner Rick Blaine (Humphrey Bogart), his old flame Ilsa (Ingrid Bergman), and Czech resistance leader Victor (Paul Henreid) come together in the exotic Moroccan city as Rick takes possession of two letters that Victor desperately needs. With Claude Rains, Conrad Veidt, Dooley Wilson, Peter Lorre, Sydney Greenstreet. 102 min. BW/Rtg: PG Singin' In The Rain (1952)Stars Gene Kelly, Debbie Reynolds, and Donald O'Connor, M-G-M's song catalog, and a script by Betty Comden and Adolph Green combine to make what is regarded as the best musical of all time. Set in Hollywood at the end of the silent era, a dashing film star puts up with a vapid starlet, while falling in love with a humble chorus girl. Songs include "Make 'Em Laugh," "Good Morning," "You Were Meant for Me," and the title tune. Co-stars Jean Hagen; co-directed by Kelly and Stanley Donen. 103 min. C/Rtg: G Rebel Without A Cause (1955)James Dean became a national symbol for '50s teen angst in director Nicholas Ray's powerful character study of alienated youth. Dean stars as new kid in town Jim Stark, who faces problems at school, deals with his parents' constant arguing, participates in knife fights and chicken races, and finds friendship with fellow outcast Plato (Sal Mineo) and the beautiful Judy (Natalie Wood). With Jim Backus, Dennis Hopper. 111 min. C/Rtg: PG-13 Standard/Widescreen; Soundtrack: English; Subtitles: English; audio commentary; featurettes; interviews; documentaries; deleted scenes; outtakes; theatrical trailers; more. Region Free
Zone Region: A
Region A: Region A titles are suitable for USA and Canada. To play this Blu-ray in Australia you must have a Blu-ray player that can play all Region A,B and C Blu-rays
Australia Wide:
We offer FREE Shipping, Australia wide on any order. No minimum purchase value! Free shipping is via Australia post.
Express and registered post are also available at an additional fee.
Shipping Time
Orders are generally dispatched with 48 hours of your payment being processed (Excluding weekends and public holidays). Delivery time will vary depending on your location within Australia and should be no more than 3 - 9 working days. Please note postal services do not operate on Public Holidays and weekends.
We offer a 60 day returns policy on all items. We will exchange any item or give you a full refund if:
» Your item is defective i.e. a manufacturing fault
» You have been sent the wrong item.
Return postage costs will be refunded in full upon receipt. Please contact us prior to returning an item.
Change of mind within 60 days is accepted as long as the item is unopened and returned in original condition. (Return Post to be paid by buyer)
Satisfaction Guarantee
We want to make sure that your online shopping experience with Kish Kash Entertainment is a pleasant one. If you are not completely satisfied with your order or any part of your dealings with Kish Kash Entertainment please contact us so that we can rectify any problems.
Contact us: webstore@kishkash.com.au
or via the telephone 9am-3pm Mon-Fri :
Australian Customers Telephone: (03) 9349-1118
International Customers Telephone: +61-3-9349-1118